A media briefing of Kazakhstan Stock Exchange JSC (KASE) confined to the issue of the first instrument in a new Stock Exchange's sector – short-term (commercial) bonds with the participation of issuers of the instrument – PAVLODARENERGO JSC and SEVKAZENERGO JSC has been taken place on November 21, 2016.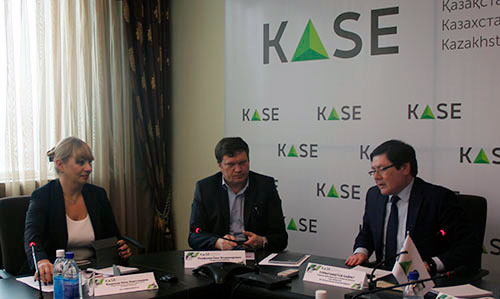 The event has been aimed at the popularization of a new financial instrument and increase of interest to issuers on the part of investors.
Bonds of PAVLODARENERGO JSC and SEVKAZENERGO JSC are included in Short-term "Commercial Bonds" Sector of the KASE official list.
Conditions of PAVLODARENERGO JSC's and SEVKAZENERGO JSC's bonds issue are similar and represented by the following parameters: quantity of issued bonds – 10 MIO of coupon bonds (unsecured); issue volume at face value – 1 billion KZT; face value – 100 KZT; coupon interest rate – fixed, 13% per annum of face value for the whole circulation term; periodicity of coupon interest payment – twice a year; circulation term – 1 year.
The "Commercial Bonds" sector is intended for short-term bonds of companies, which already have the KASE listing experience and which securities are in the KASE official list. PAVLODARENERGO JSC and SEVKAZENERGO JSC became the first companies that issued bonds under the sector", – K.Zh Turmagambetov, Business Development Director, member of the KASE Management Board, Manager has commented on the event.
On the specified meeting, representatives of the issuers – PAVLODARENERGO JSC and SEVKAZENERGO JSC – have shared plans on further development of companies, represented the dynamics of performance indicators of organizations and information on current projects and estimated figures for the near future.
PAVLODARENERGO JSC and SEVKAZENERGO JSC demonstrate a sustainable growth of earnings yield and operating efficiency.
As it was noted by O.V. Perfilov, General Director of PAVLODARENERGO JSC, the company is implementing the investment program to improve reliability of power-generating equipment operation and to provide consumers with services of a high quality since 2009. "During the 2009 – 2015 cap rates government program we invested 47.4 billion KZT in modernization and renewal of worn out and outdated equipment and improvement of production environmental standards. Thanks to the implementation of projects, the installed electric power of plants will increase from current 662MW to 677MW by 2018', – Mr. Perfilov has told at the briefing.
According to A.A. Yazovskaya, Deputy General Director of SEVKAZENERGO JSC, an amount to be invested in the modernization and renewal of power-generating equipment of Petropavlovsk CHPP-2 by the company from 2009 to 2015 was 30.7 billion KZT. Construction of a new turbine unit No.5 and major reconstruction of boiler unit No.12 is currently completing at the plant, whereupon the total installed electric power of the plant will achieve 541MW.
Speakers have noted that PAVLODARENERGO JSC and SEVKAZENERGO JSC also implement projects in the heat supply sector. Thus, within the frames of trilateral agreement between the European Bank for Reconstruction and Development, Ministry of National Economy of the Republic of Kazakhstan, and companies under the "Nurly Zhol" Program signed in October of 2016, almost 26 billion KZT will be allocated for the modernization of heat networks of Petropavlovsk, Pavlodar, and Ekibastuz, which allows completely eliminate above-standard losses at transfer of heat energy by the end of 2020.
Financial consultant and underwriter of the represented issuers – PAVLODARENERGO JSC and SEVKAZENERGO JSC – Investment House "Astana-Invest" JSC has informed on the fact that special purpose trading will take place at the Stock Exchange on November 30, 2016.
For reference
Kazakhstan Stock Exchange JSC (KASE) is a leading stock exchange
in the Central Asia region and the only stock exchange in Kazakhstan that carries out its activity on the financial market. It is a universal trading floor for instruments of repo market, foreign currencies, public and corporate securities, bonds of international financial institutes, and derivatives.
KASE is a member of the World Federation of Exchanges (WFE), Federation of Euro-Asian Stock Exchanges (FEAS) and other international and domestic professional associations. In 2015, KASE joint to the UN Sustainable Stock Exchanges (SSE). KASE ranks 2nd among CIS exchanges with respect to securities traded value, and is among the Top 5 on the capitalization of FEAS share market.
PAVLODARENERGO JSC is a vertically integrated energy company involved in production, transportation, and sale of electric and heat energy in Pavlodar oblast. The following organizations are included into its balance: Pavlodar CHP–2, CHP–3, Ekibastuz CHP, "Pavlodar Regional Electric Distribution Company" JSC, heat networks enterprises of Pavlodar and Ekibastuz, Pavlodarenergosbyt LLP. Total installed electric capacity of power plants is 662MW, total installed heating capacity is 2240Gcal/hour.
SEVKAZENERGO JSC is vertically-integrated structure, that includes all components of energy supply of North Kazakhstan oblast (generation, transportation and sale of energy resources. The company includes a power-generating enterprise – Petropavlovsk CHPP-2, transmission providers – North-Kazakhstan Regional Electric Distribution Company JSC and Petropavlovsk Heating Networks LLP, and Sevkazenergosbyt LLP. As of 01.11.16 the total installed electric capacity of CHPP-2 is 479MW, total installed heating capacity is – 678Gcal/hour.
PAVLODARENERGO JSC and SEVKAZENERGO JSC are the part of vertically integrated energy holding – Central Asian Electric Power Corporation JSC (CAEPCO, JSC).